Trinity Health Lowers HR Costs and Improves Employee Experience
Trinity Health is one of the largest Catholic health care institutions in the United States, serving more than 30 million people across 22 states. Their mission to provide top-tier health services through reverence, commitment to the vulnerable, safety, justice, stewardship and integrity. Today, they span 92 hospitals, as well as, 100 continuing care locations, employing over 120,000 people.
Trinity Health utilizes a number of human resource management solutions including the self-service portal, chat-bot, knowledge base, and reporting tools.
These modules allow them to provide their employees with many avenues to get in touch with HR, find value within the data from reports, and lower costs by achieving an optimal ratio of shared service center teams to overall employees.
Q&A with Tony Camoratto, VP of HR Shared Services at Trinity Health:
"Between chats, cases opened in the portal, knowledge base articles and phone support, we are able to provide many avenues for our colleagues."

Tony Camoratto

VP of HR Shared Services
What challenges were you experiencing prior to implementing an HR Service Management Solution?
We were unable to engage in employee self-service beyond Workday and unable to offer an employee portal. We felt this was an inadequate level of service.
Had you not implemented this technology, what would be the cost of maintaining business as usual?
With a fully functioning portal in addition to other technology and strategic outsourcing of certain services (e.g., I9, unemployment compensation, background checks, etc.) we are able to achieve a ratio of service center employees to overall employees that is top quartile. This means we lower the cost of service delivery by utilizing the portal and employee self-service.
How have things been going since implementation?
We are averaging 87,000 hits per month, so out utilization is high and trending higher each month. The same trend applies to chat, which has proven to be very popular. We are averaging over 400 chats a week. Between chats, cases opened in the portal, knowledge base articles and phone support, we are able to provide many avenues for our colleagues.
What results are you seeing in response to these new solutions?
Lower service center staffing, which will translate into lower cost of doing business, AND, importantly, improved service to colleagues.
Which features of the solution are the most helpful?
Chat is popular, both with colleagues for their inquiries and with our service center people. We are just getting to know the reporting capabilities but expect to be able to find value in data.
How do our solutions help you solve challenges that are unique to the Healthcare industry?
We are a 24/7 industry, so being able to have an active employee portal that is functioning all the time helps us to be able to staff during something close to business hours and avoid the costs and difficulties (turnover morale, etc.) of staffing the service center 24/7.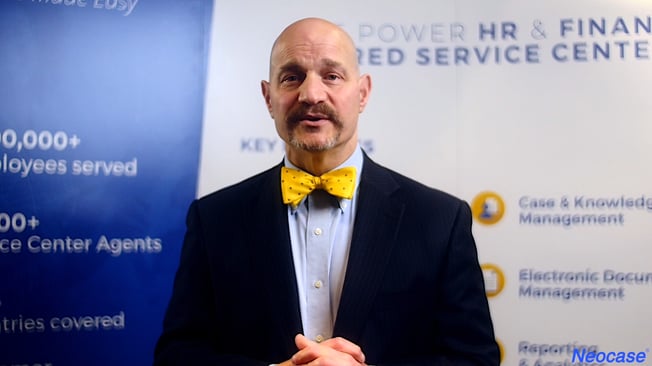 Tony Camoratto at the Neocase User Group 2020 in Atlanta
How Trinity Health uses the Solution:
The self service portal offers a personalized and unique experience for each individual employee. With mobile access, they can get the resources they need any time, anywhere.
The chatbot ensures consistent communications between employees, agents and leadership teams through a tight-knit integration with employee records, case management, the knowledge base and surveys.
A recommendation engine selects the right answer from the knowledge base according to the case details and employee profile, allowing representatives to close more cases on the first point of contact.
Learn more...
Find insights and KPI's thanks to the flexible access to data within the platform. There are tons of reporting tools at your fingertips including pre-configured reports, real time dashboards, custom report builders and advanced business intelligence.
Read more success stories here!