What's new?
Discover our New Employee Document Management Module
Does managing physical files stuffed with employee papers sound like a headache to you? We think so too. That's why at Neocase, we created Employee Document Management (EDM) to help you save time, money and a few headaches. EDM is a powerful module that simplifies document management through cloud storage and a handful of awesome features like compliance management, document collection, eSignatures and more! Thanks to the latest and greatest enhancements with Version 16 of our program, there are some exciting new features to the EDM module. Let's check out what's new!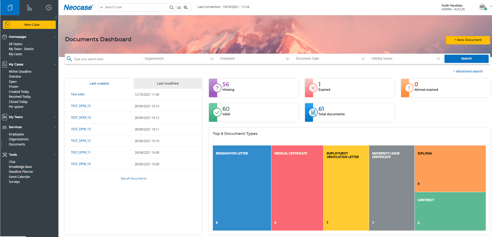 1. Tracking your documents in real-time ⌚
When managing employee documents, there are so many small details to stay on top of in order to maintain compliance within your industry. With Neocase' s EDM module you can track document expiration dates and be automatically notified of critical due dates. For instance, you can keep track of a passport or green card expiration date and receive an alert when it gets near time to update.
2. Maintain GDPR compliance 🔄
We understand that you may need to archive or purge certain documents after a specific period of time in order to stay GDPR compliant. Perhaps, you're legally responsible for suppressing employee documents several years after they've left your company. Our new and improved EDM module can take care of that for you automatically. When you need to automate a process in a snap Neocase has your back.
3. Artificial Intelligence (AI) 🧠
Neocase utilizes Artificial Intelligence (AI) to detect content from imported files. From there the AI will classify the file and document type. For instance, imagine one of our employee, uploading a document such as payslip, into the EDM module, meanwhile the AI recognizes which document has been updated, extracts the metadata and saves it all at once. Presto!
Employee Document Management is vital for companies in today's digital world. Having this type of access and control over employee documents makes managing paperwork a snap! As fellow HR experts, we know that you'd rather spend your time focusing on more strategic projects. So let Neocase handle EDM and we'll let HR get back to the strategy behind those major initiatives. 😉
This new feature is only available on Neocase HR version 16.
See related feature:
You want to upgrade ?
We get it. It's pretty exciting. Reach out to your Sales Rep or Customer Success Manager to upgrade as soon as possible!
See other amazing features released on Neocase version 16