Are You Ready for Open Enrollment?
Open enrollment happens in the U.S. once a year and it's just about that time again. Open Enrollment is a time for employees to make changes to their benefits such as health, life, dental insurance or other offerings from their employer.
With the pandemic shaping our "new normal" employees will be paying extra attention to any changes in their benefits this year as they do their best to prepare for the unknown. One thing we do know is that Open Enrollment is a busy season for HR and this year especially so. More calls, more cases, more work.
That's why we compiled a few tips to help HR professionals manage Open Enrollment this year with ease.
1. Provide Plenty of Resources via the Knowledge Base
Ensure your employees are well equipped to find answers to their questions by providing additional resources through the Knowledge Base. This will help save your employees and agents a lot of time.
🔥 Consider creating an "Open Enrollment FAQ". Imagine how many cases of "How do I add a dependent?" you could avoid with a simple resource like this.
When HR updates the Knowledge Base with fresh information regarding benefits and open enrollment it can reduce call volume, case volume, and ultimately increase employee satisfaction and Tier 0 resolution.
2. Add a Reminder and Quick Links to your Portal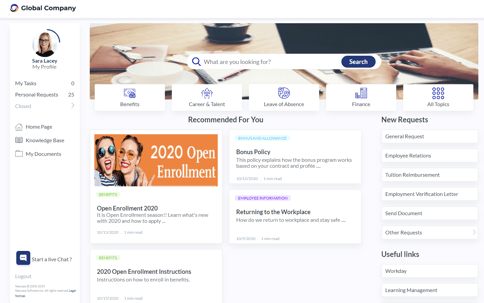 Consider adding a helpful banner or reminder section to the homepage of the portal. This will help your employees feel more supported and informed.

🔗Links to other internal or external resources related to open enrollment can be a big help as well! This streamlined approach will reduce the infamous, "Where do I find...?" calls that agents tend to get quite often.
3. Add a Section in the Portal for your Most Requested Information
Are you repeatedly asked the same questions by employees? 🤔 Try creating a section on your portal that takes employees directly to those annual enrollment documents.
Putting the information right in their view makes it less likely that they will open a case.
⭐BONUS TIP: Secure Your Documentation
Storing documents that contain legal name changes, beneficiary changes and other private information require a consistent and secure storage system that includes a simplified workflow for agents.
Neocase Employee Document Management is a great solution for storing these documents.
Open Enrollment is a wonderful opportunity to maximize employee appreciation and engagement. By following these tips you'll be able to remove some common pain-points for both employees and HR.
Check out more tips & tricks for HR...