This article is based on our latest podcast 👇
In this Fosway Analysis Podcast Series, we had the pleasure of interviewing Sven Elbert, Senior Analyst at Fosway Group, on several current HR topics such as Employee Journey, HR documents, Employee Requests, and Employee Relations.
This episode is about Employee Relations and why it digitization is a very important HR topic today.
---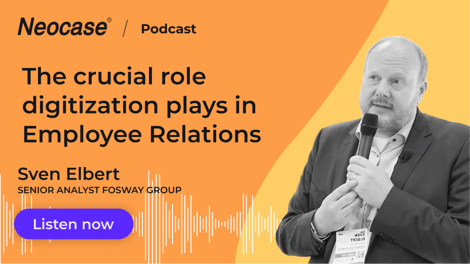 ---
How do you explain this trend around disciplinary and grievance?
"COVID has been a massive accelerator to digitize any and all HR processes and Employee Relations are not an exception.

However, it has probably been very late to the game. We've seen few systems that are able to handle the complexity and there are fairly complicated workflows surrounding this. There are many stakeholders involved in these types of processes.

Usually, in HR, whatever performance you would find, the manager, the employee itself, and the team is involved but for these kinds of processes, you need many other stakeholders as well: Work council members, women officers, and so on...

➡️There are many actors that you need to orchestrate and I think that adds an additional level of complexity."
---
👉Learn more about the Neocase Employee Relation solution👈
---
Different specificities depend on a company's organization and/or location
"Historically these things have also been very specific to the company and very local. There are huge differences between how a process like this would run in Germany, in France in the UK, or the U.S. It's an additional level of why these processes have been sitting around or been done on paper or been done out of digital solutions in the past.

Since COVID, this has changed, and the tools have gotten more mature to handle this kind of flexibility and sophistication in the workflows themselves."

More attention on diversity, equity, and inclusion
"For example, in the last two years, the Black Lives Matter movement has increased the tension in companies, and how a company behaves towards discrimination or harassment cases. This is watched much more closely by the public.

Companies want to make sure they are handling this very well, very professionally, that they document all the steps, and that they have a clear approach to it.

To me, this is why we are seeing such an increase in these kinds of topics."
Podcast led by Raphaële Coutant-Roch,

Product Marketing Manager at Neocase.
Guest speaker: Sven Elbert,

Senior Analyst at Fosway Group.