This article is based on our latest podcast 👇
In this Fosway Analysis Podcast Series, we had the pleasure of interviewing Sven Elbert, Senior Analyst at Fosway Group, on several current HR topics such as Employee Journey, HR documents, Employee Requests and Employee Relations.
This very first episode is about building an Employee Journey that is enough engaging and effective.
---

👉The Fosway podcast - Episode 1: The most important topics to focus on to improve the Employee Journey?👈
---
Regarding Onboarding, Crossboarding, and Offboarding, what are the topics which need to be addressed to improve the Employee Journey?
"Historically, we have looked at this more from an HR compliance point of view. Onboarding was much around getting all these administrative tasks readily done in time so that people were getting operational. But it wasn't so much focused on the employee experience.
Since the pandemic, we are now really seeing a shift in priorities for HR teams to focus on the employee experience, on social onboarding, on the connection and the community for people that they can build those social relationships, mentoring, buddying up with someone that helps them on board, particularly during COVID when it was completely virtual. This was a significant challenge!

Now with hybrid work and everything, it continues to be one of the focus areas.

So it's not around compliance or role clarity. It's also about connection, community, culture, a little bit about caring for the onboarding as well and making sure they feel a sense of belonging, and a sense of purpose as well.

In addition, maybe I think also the focus on skills we've seen over the past two years accelerated quite significantly. Providing people with development opportunities from day one and giving them challenges on the job, on the next project, and making them aware of such opportunities is what we are seeing as really a driver for the employee experience and it helps to reduce involuntary turnover."
---
▶️Download our first Employee Journey Guide
From Preboarding to Onboarding: 12 essential steps.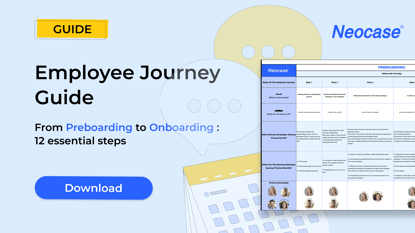 ---
How can improvments in the Employee Journey for Onboarding, Crossboarding, and Offboarding be measured?
"The current economic climate it's not all sunny so from a recruitment perspective, there's a bigger focus on making sure that the people's investment is effective and sustainable, much greater attention on the quality of hire than it was on time to hire in the past.

If companies hire someone during these economic climates, they want to make sure that they come on board, and that they are successful in the role. There is this additional focus and there's maybe also an additional focus on measuring success, which hasn't been the case in the past, so I think that's important to mention!
What are the things to measure then?
The Onboarding or the no-show rate (people who signed the contract but then don't show up on day one for work because they found something else or they are not in the mood anymore, etc.) So If we look at the first 90 days, the first six months, the first year into the role, making sure that people don't leave and measuring early departure rates, and keeping those stones is quite key for organizations during these days.
Those apply not only to onboarding but also to cross-boarding or promotions or other internal steps.
Things around employee engagement as making sure that people are:

💪 motivated
😀happy with their job
😄 happy with their managers
👍 a promoter for the employer
🗨️ Employee NPS

⬆️Those kinds of measures are definitely what organizations are putting more focus on.
Then if we look at offboarding?
Who is joining the alumni portal❓
How many people we rehire at some point in time❓

Keeping engaged and keeping interactions alive with the people that have worked for the company is becoming increasingly important as we have a skills shortage in Europe."
Podcast led by Raphaële Coutant-Roch,

Product Marketing Manager at Neocase.
Guest speaker : Sven Elbert,

Senior Analyst at Fosway Group.