Use Surveys in HR to Gain Insights on Employees 💡
Surveys can help you gauge your employees and make important discoveries on your organization's wins as well as where they have room for improvement. Specifically, Human Resources can benefit from utilizing surveys in order to gain critical insights on how to improve employee experience, engagement and wellness. Surveys can provide hard numbers that help drive decision making.
Surveys are an easy way to get feedback from your employees 📈
Perhaps you want to know how effective a Knowledge Base article was at answering their question. Or maybe you want to give your employees a way to communicate case satisfaction back to HR. All this is possible with Neocase's survey feature.
Gaining a better understanding of the employee experience will make for happier employees which translates to happier HR. Giving employees a voice allows them to feel represented and heard and it will help HR make informed decisions as the solution evolves.
Surveys can be very effective if implemented properly. When you get started, make sure you have clear goals outlined. You'll also want to consider how you phrase your questions. Your company's culture may influence the language used in the surveys.
Keeping some of these things in mind will aid in the effectiveness of your survey and help your HR organization be more successful in the long run.
The great thing about surveys is that they are very flexible in that they can be created for just about anything. The possibilities are endless but to get started, here are 5 suggested surveys that will help HR get some insights on the employee experience.
5 HR Surveys to Gain Employee Insights...
1. Case Closed Satisfaction Survey 🧐

The Case Closed Satisfaction Survey is triggered once a claim or request is completed. It will give employees the opportunity to review their experience on how their case was processed.
You can ask questions like...
How well was your question answered?

How was the service?

How would you rate your experience?
Once the case is closed, the employee receives an email inviting them to take the survey on the portal.
How does this help HR? By looking at the results from these surveys, you can identify trends, see who's not providing the proper responses or service, and better understand your employees' needs.
From there, you can build out Knowledge Base content to support those weak spots or perhaps restructure a process that's not working. It may even signal a training opportunity for agents or managers. There's so much to be learned from these surveys!
2. Knowledge Base Article Survey 👍
The Knowledge Base Article Survey serves to understand how useful an article was in answering an employee's question.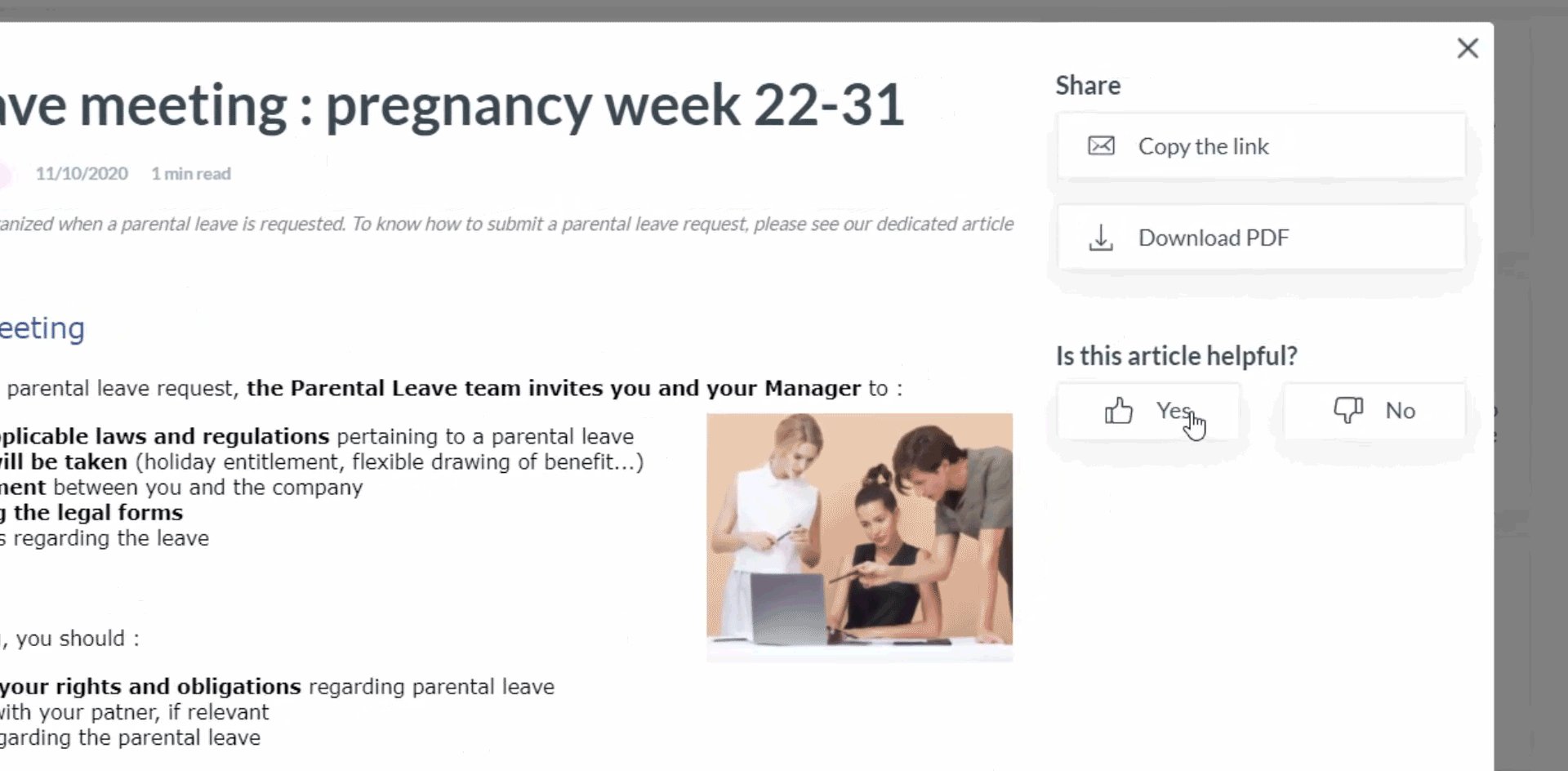 As you can see below, in the Neocase Self-Service Portal, this survey is located right on the article page itself. It appears as a thumbs up beside a thumbs down, allowing the employee to "like" or "dislike" the article based on how helpful or relevant it was.
This survey will help HR understand where they need to provide more information or resources around a certain topic in order to better serve their employee's questions.
That's not all, if an employee gives a thumbs up that's a Tier 0 resolution and If an employee gives it a thumbs down it opens a case, entering into Tier 1. This is all part of the employee experience.
By being able to identify what cases tend to escalate to Tier 1, HR can build out the Knowledge Base content as needed and reduce cases for the future and increase employee experience at the same time. This will allow your HR Team to focus less on administrative tasks and more on building strategic partnerships within the Company.
3. Pre Hire Survey ⭐
Consider creating a Pre Hire Survey! Its purpose is to get a quick pulse on your new hire and ensure everything is going smoothly as they transition from pre-hire status to a newly hired employee.
Did you know that employees determine if they're going to stay long-term with a company in the first 6 months aboard? (SHRM)
That means that ensuring those initial experiences are positive is all the more important.
Let's take Nick, for example. Nick just accepted an offer from his new company. Exciting stuff! Nick will get an email inviting him to take the Pre Hire Survey on the employee portal. You can ask questions like...
Would you recommend this company to a friend?

How was your experience?

Were you pleased with the recruiter?
Thanks to Nick's responses, HR can get insights on how to improve the hiring experience. As HR Professionals, we can appreciate the value in how a good first impression will go a long way in reinforcing a positive employee experience.
4. New Hire Survey 👨‍💼
A New Hire Survey can be sent out as part of the onboarding process. Consider creating a 30-60-90-day check-in with your new hire to ensure everything is off to a great start. Remember, those initial experiences are key to happy employees!
By creating a line of communication with your employee at the start of the relationship you'll reduce problems down the line, as you can guide them through any questions they may have while learning how to improve the onboarding process for future new hires.
5. Offboarding 👋
Just as you will want to keep track of how an employee's onboarding went, it's equally important to measure their offboarding experience as well. An offboarding Survey can ask questions such as...
What did you like about your time with the company?

Would you recommend this company to a friend?

How would you improve your experience?
Employees who have a positive offboarding experience will be more likely to come back or recommend someone to the company. Surveys can help HR understand if the employee's experience was positive and if not, how to improve for future employees.
Give Surveys a Try! 🗨️
Surveys are a great resource for your HR Team to utilize. The learning opportunities are endless as surveys can be created for just about anything. They can help HR better understand an employee's experience, engagement and wellness throughout their time at the company. The flexibility of the tool makes it a great resource for HR to get a closer look at all of these elements.
When HR makes data driven decisions, the results can be powerful. So create a survey today and implement changes that will make a lasting difference.