Professional services employees can have high expectations for HR service delivery. We're talking about architects, engineers, attorneys and business consultants.
These educated and credentialed professionals who've invested a lot in their careers often expect the same "Gold Service" at work that they'd receive in their lives as consumers, or as a guest at a Ritz Carlton.
This article describes many ways that digitizing your HR service delivery can meet and exceed those expectations, and more important, create additional business benefits that are less frequently discussed.
What is digital HR service?
In our lives as consumers, we've gotten used to ease and convenience, all from the screens of our smart phones. But that's not always the case when we go to work. In many organizations, HR hasn't caught up to the Amazons and Ubers of the consumer world. And employees can definitely feel the difference.
This at-work employee service experience can have a greater downstream impact than what's normally discussed. So let's discuss about those less talked-about benefits of "consumerizing" the HR and the employee experience, especially what it can mean for professional services organizations.
How does digital HR service increase employee engagement?

Gallup tells us that engaged employees perform better and differentiate you from your competitors.
"People want purpose and meaning from their work. They want to be known for what makes them unique."

When employees spend less time on administrative work, they can spend a higher percentage of their time doing the work they love - and the work that you hired them to do - like solving challenging problems for their clients. This is what gives their a sense of purpose, and meaning from their work.
How does digital HR service make HR more strategic?
The business process automation that reduces an employee's administrative workload does the same for HR professionals, but more so. When workflows are easily automated, HR professionals can spend a higher percentage of their time on engagement-driving initiatives, such as creating a high-development culture, and coaching managers on providing feedback to their direct reports.
These are examples of the strategic initiatives that give employees a greater sense of purpose and meaning from their work, causing them to invest more discretionary effort into their work.
How does digital HR help you build a better brand?
In highly competitive markets, your corporate brand is key to attracting top talent. Fast Company's research indicates that strong employer brand can be one of a company's strongest assets.
A branded employee portal can reinforce your brand and culture, with every employee, every day. A 2018 Industry Week article tells us that if you promote your organization's use of technology, you can change the candidates' perceptions of your company brand.
ResMed, a San Diego-based provider of digital respiratory devices is a great example.
You'll find the following post by ResMed on LinkedIn, where they describe their employee portal to candidates:
"Our People team and Neocase have partnered to successfully launch 'MyConnect' a global people service delivery platform. This enables Team Members across the globe to access their people-related information, links, and resources at the touch of a button 24/7"
Once those digitally savvy consultants join your company, they can become your recruiting teams' best advocates!
How does digital HR help you simplify compliance?
Performance management solution provider Reflektive explains HR Compliance through two main goals:
Ensure the employer treats employees fairly

Prevent the business from running afoul of legal repercussions.
While Digital HR Service solutions automate processes to reduce manual work, process automation delivers another benefit: it assures that the process is executed consistently for every employee. And consistency creates fairness.
Another area of risk with respect to compliance is employee documentation. It's critical that all the right document, as required by regional labor laws, be on file for each employee. And in professional services, credentialing documents may be an added requirement.
So, how does digital HR service delivery help?
Some digital HR service delivery solutions also include
digital employee document management
tools that assure the right documents for each employee are generated, approved, signed, validated, stored in a secure central "cloud."
This significantly reduces your risk of non-compliance, so you can allocate more mental effort on those strategic employee engagement initiatives. (Do you see how digital HR service is becoming a virtuous cycle?!?)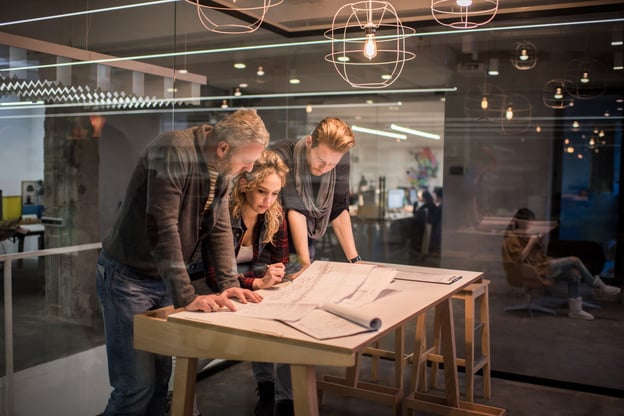 Bonus Benefit:
Provide "White Glove Treatment" to your MVP's.
In the beginning of the article, we talked about the high expectations of highly-credentialed engineers, architects, attorneys and consultants. Some of these individuals may be your most valuable employees, and if you want to make them feel this way, you can configure a "White Glove Portal Experience."
Special self-service portal pages and content can be made to appear only when that star partner, or one of her assigned "delegates" has logged into the portal. Special conveniences and services, such as direct live chat access to a senior-level HR "concierge" can extend the feeling of exceptional treatment.
Summary and Next Steps
So there you have it. While the commonly discussed benefits of digital HR Service Delivery are a better employee experience, and increased HR productivity leading to transformation, there're are other benefits worth mentioning.
Digital HR service delivery can also:
Be a catalyst for Employee Engagement
Enable HR to be more strategic
Enrich your employer brand
Reduce your risk of non-compliance
Enable "White Glove" treatment for those select Partners in the firm.
We hope you've found this article useful and thought provoking. If you'd like to learn more, complete the form on this page, to schedule a quick and convenient 30 minute demo.
Thanks for reading, and we look forward to seeing you at the demo!