Check out these 3 new features to seamlessly manage HR documents and be more compliant!
1. Qualified Signature with DocuSign ✒️
In Europe, the eIDAS regulation requires 3 levels of electronic signature depending on the documents that need to be signed: Standard, Advanced, Qualified.
With Neocase you can electronically sign any type of document in any country. Even documents with high levels of sensitivity can be signed electronically while maintaining compliance with the highest standard of European e-signature security regulations.
How does it work?
Qualified signature requires face-to-face identification. With Neocase you will be able to use an electronic identity card to check the employee's identity. The benefit of Neocase is that it offers the best legal protection.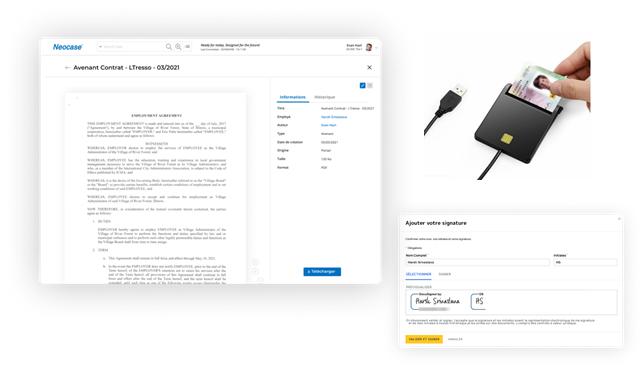 Interested in learning more about this? Let's get in touch.
2. Data Room 📄
When your organization is getting ready to do an audit of the company you will be preparing documents that need to be reviewed. Neocase offers you a solution that can provide easy access to all your documents in the case of an audit.
How does it work?
Once the needed documents have been identified, Administrators can give access to the right team members by creating a new "Auditor" role. Auditors will be able to export all pages of a document.
Organizing your audits is a breeze with Neocase. Simply provide access to the required documents in one click!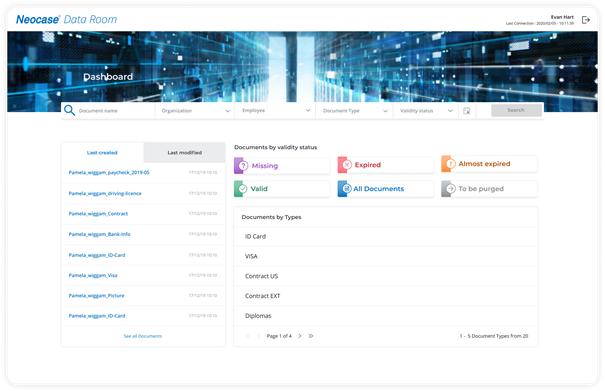 Need a Data Room? We can help with that. Get in contact with us.
3. Legal Hold 🚩
During a legal conflict between an employee and a company, some legal departments may need to freeze employee documents and hold them from being modified. You can be certain that documents have not been modified after a legal process was started and ensure compliance with the laws and regulations of the country.
How does it work?
A 'legal hold' flag is placed on the employee's profile. This flag will automatically freeze all his documents. Thanks to Neocase you can reduce legal risk and be compliant!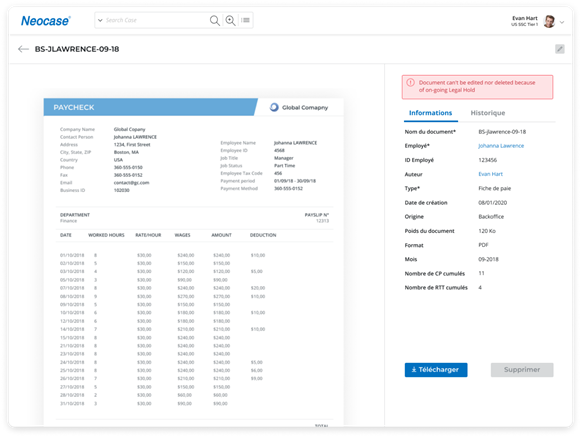 Need to freeze employee documents? Contact us!
Stay tuned for more new features from Neocase!