Already named Core Leader by the 2022 Fosway 9-Grid™ for Cloud HR, Neocase maintains its status in the category this year with an increasing trajectory!
---
David Wilson, Founder and CEO of Fosway Group*
---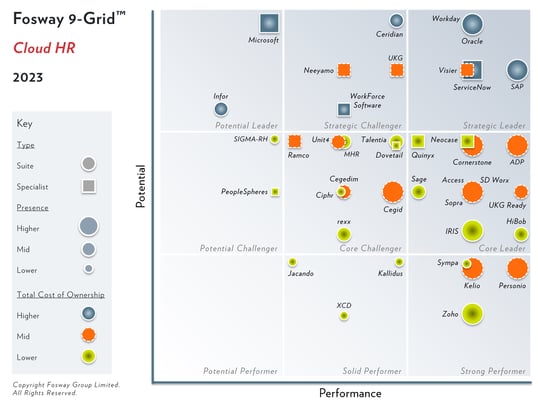 Fosway 9-Grid™: what is it?
The Cloud HR market analysis model
The Fosway 9-Grid™ report is EMEA's only market analysis model for HR, talent management, and next-generation training. Published annually by analyst Fosway, the report is based on their unrivaled independent research of over 25 years into the HR, talent management, and next-generation training markets, as well as the knowledge and experience of Fosway's network of research companies. More than 250 leading companies, usually professional organizations with a strong presence in Europe, make up this network.
European market specialist
The Fosway 9-Grid™ report is the only market analysis model that provides an understanding of the relative position of solutions and providers in the learning and talent management systems market. The 9-Grid™ Report has been evolving since 2008 in response to the demand for analysis and insights designed for companies based in Europe. Too often, organizations have to rely on a US-centric view.
Neocase champions its category
At the cutting edge of technological innovation
This increasing trajectory on the scale of capabilities analyzed by Fosway recognizes our sustained efforts in innovation. For Neocase, 2023 was a particularly creative and disruptive year, with no fewer than 6 new features revolutionizing HR Service Delivery:
Automatic document processing using AI

A knowledge base powered by Azure OpenAI GPT

Automatic qualification of employee requests

Intelligent translation of HR requests by AI

Mobile application for every employee

New data warehouse
Specialist, leader, and yet one of the solutions with the lowest TCO on the market
It's a fact that our solution is not just recognized for its high performance. For the second year running, Neocase is one of the most competitive specialists on the market. The best analysts now recognize this strategic positioning, but our customers have always known.
But as well as recognizing Neocase's increasing capabilities, Fosway also assessed Neocase as a low total cost of ownership (TCO). Over the past 15 years, Neocase's satisfaction and renewal rates have rewarded our strong commitment to user experience.
Designed to effectively manage HR strategies, flexible enough to model all kinds of organizations (from the Global Shared Services Center to local HR), and designed to be easily adopted, our solutions meet the needs of new management styles now more than ever. A unique, agile, and pioneering know-how, to sustainably digitalize your HR function.
For more information about our solution, visit our website: https://www.neocasesoftware.com/fr/ or contact us here